Apartment in Madrid.

Puerta del Sol

, calle Atocha 14
Apartment Romero de Torres 1ºF
---
Places: 5
Bedrooms: 2
Bathrooms: 2
Size: 80 m2
Lift: Yes
Terrace: No
Balcony: No
Unusual apartment, with two mezzanines, a double bedroom and one bathroom. It is located in the centre of Madrid, very close to Plaza Mayor and Puerta del Sol. With a modern decoration, the apartment invites you to spend a bohemian holiday in the heart of Madrid.
---
Book now your apartment
Select your apartment
Enter your details
Confirm your booking

    string(483) "SELECT `ofertas_portada`.*, `apartamentos`.*, `fotos_apartamentos`.*, `edificios`.`nombre` as nombre_edificio
FROM (`ofertas_portada`)
JOIN `apartamentos` ON `apartamentos`.`id_apartamento` = `ofertas_portada`.`id_apartamento`
LEFT OUTER JOIN `fotos_apartamentos` ON `fotos_apartamentos`.`id_apartamento` = `ofertas_portada`.`id_apartamento`
JOIN `edificios` ON `edificios`.`id_edificio` = `apartamentos`.`id_edificio`
WHERE `principal` =  'Si'
ORDER BY `ofertas_portada`.`order` asc"


Owners of
more than 200 apartments
in central Madrid

No agent fees
Direct rentals

To your needs
Rentals available

Quality and Design
All apartments
fully equipped and furnished
Experts in rental apartments in Madrid
Call center at your disposal
+34 91 411 91 92
Gavirental representative meets you on arrival. Check-in customized
Airport shuttle service, Parking facilities
and Cleaning service available
24 hrs Maintenance & Cleaning
service available
Book in advance and enjoy discounts up to 20%. Call us!
Doña Urraca 1ºC
Bedrooms: 1
Size: 35m2
Location: Doña Urraca
Tirso de Molina 5ºA
Bedrooms: 3
Size: 90m2
Location: Tirso de Molina
Duran 5ºE
Bedrooms: 2
Size: 80m2
Location: Conde de Romanones 1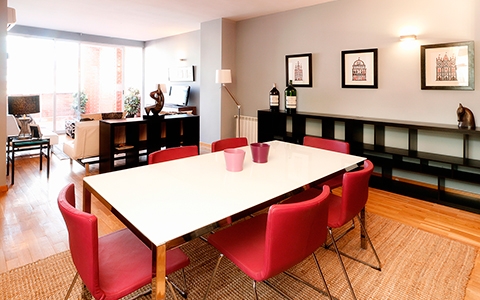 Limited offers according to availability
*Non acumulative discount