Building Conde de Romanones 14
Apartment in Madrid.

Puerta del Sol

, calle Conde Romanones 14
Apartment Serrat 2ºC
---
Places: 4
Bedrooms: 2
Bathrooms: 1
Size: 60 m2
Lift: Yes
Terrace: Yes
Balcony: No
Fantastic apartment with two wide stays to enjoy an agreeable visit Madrid. Placed in the downtown, to 5 min. of the Puerta del Sol. Functional space for 5 persons decorated nowadays. 
Fixtures and fittings: the apartments has: individual heating, air conditionning, Wi-Fi Internet connection, microwave, oven, washing  machine, dish washer, fridge, TV, coffee maker, towels, linens, blankets, iron and ironning board, toaster, hair dryer, other items household. Fully decorated with new furniture of modern design.


---
Book now your apartment
Select your apartment
Enter your details
Confirm your booking

    string(483) "SELECT `ofertas_portada`.*, `apartamentos`.*, `fotos_apartamentos`.*, `edificios`.`nombre` as nombre_edificio
FROM (`ofertas_portada`)
JOIN `apartamentos` ON `apartamentos`.`id_apartamento` = `ofertas_portada`.`id_apartamento`
LEFT OUTER JOIN `fotos_apartamentos` ON `fotos_apartamentos`.`id_apartamento` = `ofertas_portada`.`id_apartamento`
JOIN `edificios` ON `edificios`.`id_edificio` = `apartamentos`.`id_edificio`
WHERE `principal` =  'Si'
ORDER BY `ofertas_portada`.`order` asc"


Owners of
more than 200 apartments
in central Madrid

No agent fees
Direct rentals

To your needs
Rentals available

Quality and Design
All apartments
fully equipped and furnished
Experts in rental apartments in Madrid
Call center at your disposal
+34 91 411 91 92
Gavirental representative meets you on arrival. Check-in customized
Airport shuttle service, Parking facilities
and Cleaning service available
24 hrs Maintenance & Cleaning
service available
Book in advance. Special discounts for students. Call us!
Doña Urraca 1ºC
Bedrooms: 1
Size: 35m2
Location: Doña Urraca
Duran 5ºE
Bedrooms: 2
Size: 80m2
Location: Conde de Romanones 1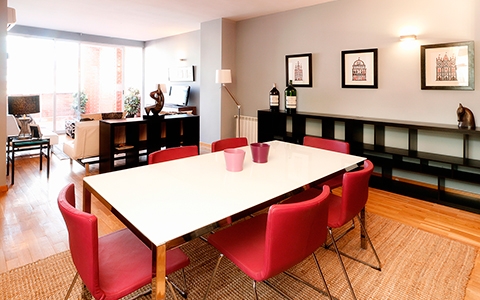 Limited offers according to availability
*Non acumulative discount